Collection: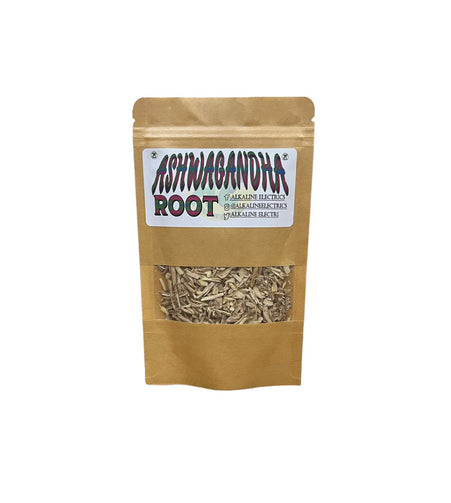 Collection:
Ashwagandha Root (Organic) 1oz
Ashwagandha Root (Organic) 1oz
Regular price

Sale price

$8.99
Ashwagandha is an adaptogen, which means that it can help your body manage stress. It helps to boost brain function, as well as lower blood sugar and cortisol levels. It also can assists with symptoms of anxiety and depression. It promotes restful, deep sleep. Ayurvedic medicine has used ashwagandha as a general tonic for centuries and this herb may be just the thing for today's stressed and burned out populace. One of the chemically active ingredients found in the leaves is withanolides, which seems to have a steroid like effect. They indirectly increase activity of steroidal hormones like testosterone and progesterone. This may cause an aphrodisiac effects. Withanolide D has shown antibiotic and antitumor activities as well. It may prove to be beneficial with other standard therapeutics for fatigue, such as exercise and those undergoing chemotherapy. It also relaxes blood vessels and stimulates circulation and has an anti-inflammatory and tonic effect on rheumatic and autoimmune conditions such as rheumatoid arthritis and lupus. Animal studies have found that naturally occurring steroids in ashwagandha are more potent than treatment with the synthetic steroid hydrocortisone for controlling inflammation. It is also used in the treatment of low back pain and sciatica.
We recommend that you consult with a qualified healthcare practitioner before using herbal products, particularly if you are pregnant, nursing, or on any medications.
*This statement has not been evaluated by the Food and Drug Administration. This product is not intended to diagnose, treat, cure, or prevent any disease. For educational purposes only.
Customer Reviews
100
reviewers would recommend this product
Write a Review
02/04/2023
Anonymous

United States
I recommend this product
Finest quality
Service and quality was exceptional