Collection: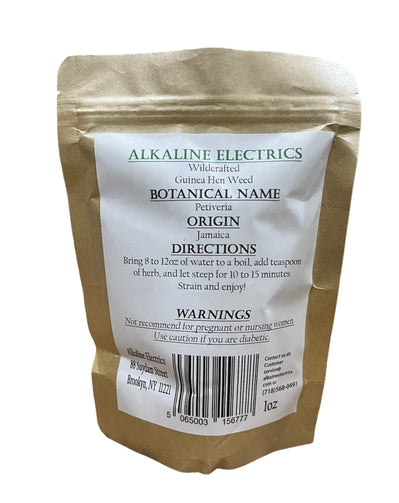 Collection:
Jamaican Guinea Hen Weed (Wild Crafted) 1 oz
Jamaican Guinea Hen Weed (Wild Crafted) 1 oz
Regular price

Sale price

$4.99
Jamaican guinea hen weed or anamu leaves, stems, and roots are widely used to boost the immune system and has been proven to be effective against harmful organisms such as bacteria, fungi, and viruses. Some of the other benefits include its richness in antioxidants as well as use as a treatment for cold and flu symptoms and other respiratory conditions. It is effective in reducing fevers, it is an effective pain reliever, it lowers blood sugar, and it has antispasmodic properties. It is effective in the treatment of cancer due to two of the phytochemical compounds in the plant which are believed to destroy cancer cells while leaving healthy cells unharmed. It is a traditional remedy for arthritis and rheumatism. Its leaves can be crushed and made into a paste which can be applied to soothe pains and aches. It can also be used to stimulate proper digestion and to relieve digestive problems such as bloating and flatulence. It fights infections and stimulates the immune system. It promotes the release of toxins through increased sweat and urine production, and It is also used as a natural insect repellent.
We recommend that you consult with a qualified healthcare practitioner before using herbal products, particularly if you are pregnant, nursing, or on any medications.
*This statement has not been evaluated by the Food and Drug Administration. This product is not intended to diagnose, treat, cure, or prevent any disease. For educational purposes only.