Collection: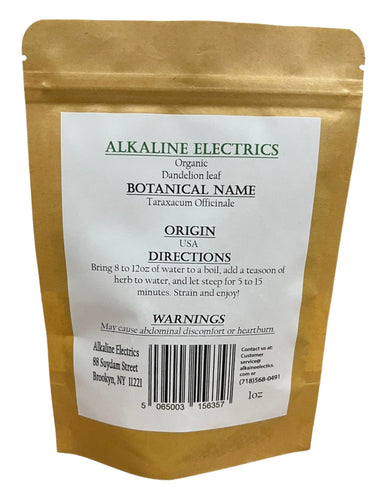 Collection:
Dandelion Leaf (Organic) 1oz
Dandelion Leaf (Organic) 1oz
Regular price

Sale price

$12.99
Dandelion leaf act as a diuretic, increasing the amount of urine your body makes. The leaves are used to stimulate the appetite and help digestion. Dandelion flower has antioxidant properties. Dandelion may also help improve the immune system. It can be used as a blood tonic. It's also good for bruises, cancer, eczema, gallstones, intestinal gas, joint pain, muscle aches, upset stomach, and viral infections. It increase bowel movements, and is also a skin toner.
We recommend that you consult with a qualified healthcare practitioner before using herbal products, particularly if you are pregnant, nursing, or on any medications.
*This statement has not been evaluated by the Food and Drug Administration. This product is not intended to diagnose, treat, cure, or prevent any disease. For educational purposes only.